To bring up a scatter plot for a correlation pair, click the correlation in the correlation table to make it appear in the correlation historical chart. Then, click on the correlation name listed to the right of the chart.

The scatter plot shows how the correlation is calculated:
the number of samples used (each sample is a monthly return)
the regression line, characterized by its slope and intercept.
the r-squared, which is equal to the squared correlation
In this chart, the horizontal axis measures the monthly returns of one of the assets being correlated, while the vertical axis represents the other.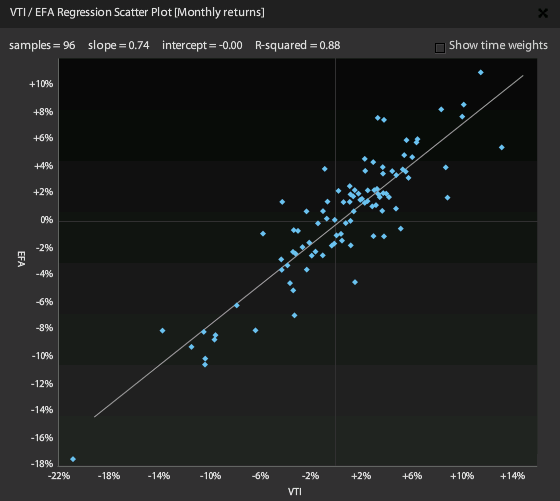 Each point on the plot corresponds to a month. Hover the mouse over a point to display the details of the returns for that month. If the option "Show time weights" is selected, the points are colored according to their age. Recent months appears brighter, while older months appears faint, reflecting their weight in the correlation calculation.