A portfolio stress test is an estimate of the return of the portfolio under various scenarios. There are two types of scenarios:
In its current version, Portfolio Lab only supports historical stress test scenarios. The following scenarios are available:
Asian crisis (1997)
Russian crisis/LTCM (1998)
Tech bubble burst (2000 - 2001)
WTC attack (2011 - 2011)
Subprime crisis (2008 - 2009)
To display the stress test results for a given portfolio, navigate to the Risk tab and select the Stress Test view.
You may compare the portfolio stress test results against another portfolio or an index using the Compare button. Below is an example of stress test results comparing a portfolio with an index.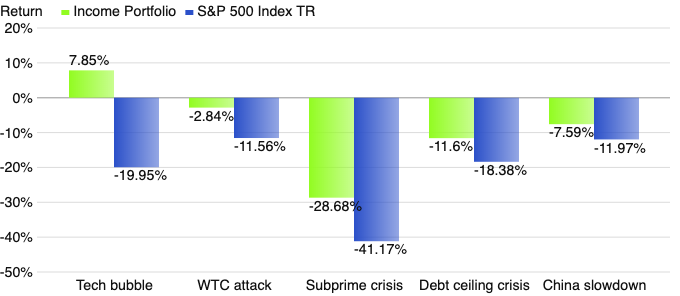 Methodology
The stress test results are obtained by combining the return for each asset of the portfolio for the given scenario dates. If the portfolio contains an asset that does not have price for that period, a proxy is used for that asset (for a description of the use of proxies for missing prices, please refer to the Backtest section of this manual.)
Scenarios
Asian crisis: originated in Thailand in the summer of 1997 and spread to Asian countries. Global markets experienced drops on fear of worldwide contagion (Oct 21, 97 - Oct 27, 97)
Russian crisis/LTCM : after Russia defaulted on its bonds, Long Term Capital Management's collapse threatened to cause a chain reaction of losses through capital markets (Jul 15, 98 - Oct 15, 98)
Tech bubble burst: the deflating of the dot-com bubble caused a prolonged decrease in equity prices (Mar 10, 2000 - Apr 4, 2001)
WTC attack: a terrorist attack disrupted trading in the US markets and triggered a sell-off (Sep 10, 2011 - Sep 21, 2011)
Subprime crisis: a rise in subprime mortgage deliquencies led to a financial crisis and recession (Sep 30, 2008 - Mar 9, 2009)