scenarios
A stress test estimates the portfolio return under adverse scenarios. There are two types of scenarios: historical and hypothetical. In its current version, Kwanti supports historical scenarios only.
The stress test shows how a portfolio as it is currently constructed would perform in various market time frames (ie. a stress test of a specific portfolio construction). This is different from the performance tab which takes into account things such as import history, or various re-balancing simulations. For the stress test, we use the re-balancing schedule specified with the portfolio.
To display the stress test results for a given portfolio, navigate to the Risk tab and select the Stress Test view.
You may compare the portfolio stress test results against another portfolio or an index using the Compare button. Below is an example of stress test results comparing a portfolio with an index.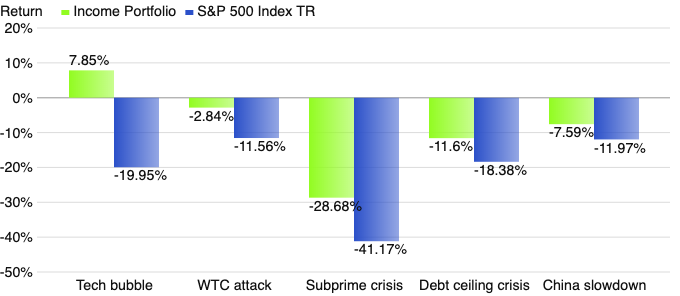 Scenarios
The following scenarios are available:
Asian crisis : originated in Thailand in the summer of 1997 and spread to Asian countries. Global markets experienced drops on fear of worldwide contagion (Oct 21, 97 - Oct 27, 97)
Russian crisis/LTCM : after Russia defaulted on its bonds, Long Term Capital Management's collapse threatened to cause a chain reaction of losses through capital markets (Jul 15, 98 - Oct 15, 98)
Tech bubble burst: the deflating of the dot-com bubble caused a prolonged decrease in equity prices (Mar 10, 2000 - Apr 4, 2001)
WTC attack: a terrorist attack disrupted trading in the US markets and triggered a sell-off (Sep 10, 2011 - Sep 21, 2011)
Subprime crisis: a rise in subprime mortgage deliquencies led to a financial crisis and recession (Sep 30, 2008 - Mar 9, 2009)
Debt ceiling crisis: political deadlock in Congress prevented budget decisions and raised the possibility of US debt default. The US was downgraded by rating agency S&P (Jul 7, 2011 - Oct 3, 2011)
China slowdown: concerns about a slowdown of Chinese economy and devaluation of the Yuan triggered losses in world markets (Jul 17, 2015 - Aug 25, 2015)
2018 Q4 selloff: volatility due to raising interest rates, trade disputes and the possibility of recession led to a global selloff (Sep 20 2018 - Dec 24 2018)
Coronavirus: Virus infection spreads worldwide, threatening to slow down the global economy (Feb 21 2020 - )
Methodology
The stress test results are obtained by combining the return for each asset of the portfolio for the given scenario dates. If the portfolio contains an asset that does not have price for that period, a proxy is used for that asset (for a description of the use of proxies for missing prices, please refer to the Backfill section of this manual.)
Stress test results are calculated net of fees: advisory fees assigned to the portfolio are included in the performance calculation, pro-rated to the number of days specified in the scenario.
Adding a scenario
To add a scenario with your own defined dates, use the Add link on top of the scenario table. The scenario will apply to all portfolios and will be displayed in the PDF report.