To create a portfolio, use the New button in the All Portfolios view:



There are two kinds of portfolios:
Model portfolios

the positions are defined by weights (%)
weights remain the same until you change them
the portfolio has no specific value
useful for hypothetical portfolios and historical tests
Real portfolios

the positions are defined by number of shares
weights are calculated every day based on the end of day value of the positions
the portfolio value is calculated
When creating a new portfolio, you decide the type of portfolio (model or real) as shown below: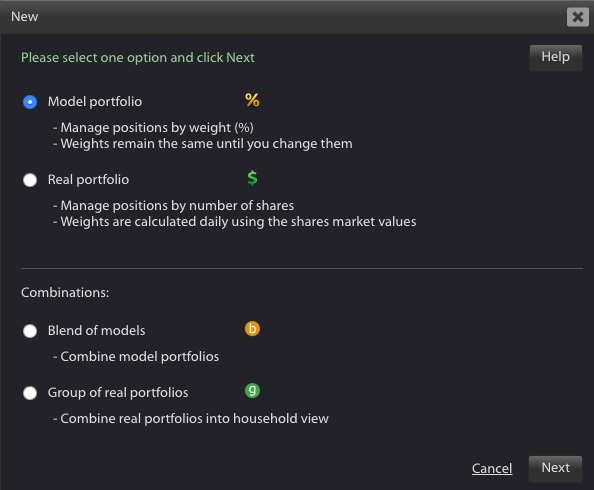 Later, you have the option to convert a model portfolio to a real portfolio, and vice-versa, through the Edit menu.
Under combinations you have two options to choose from.

Blend: a combination of model portfolios with a percentage weight for each model

Group: a combination of client portfolios for a household view.
Importing portfolios
Portfolios defined in other systems may be imported into Kwanti. Refer to the Import Data section for more information.